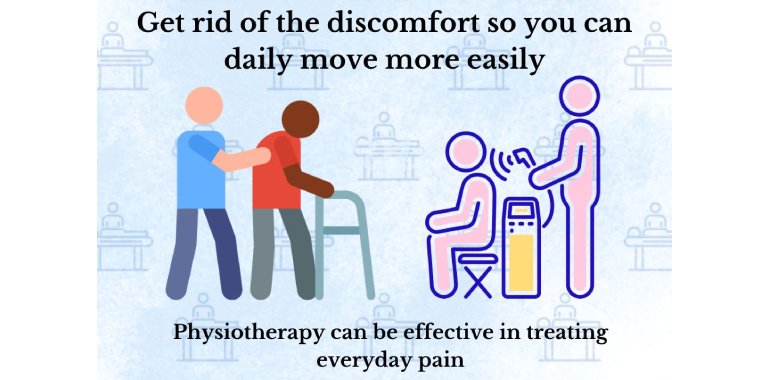 BENEFITS OF PHYSIOTHERAPY AT HOME
Physiotherapy treatment is a therapeutic procedure concerned with the rehabilitation of individuals adhering to a trauma. It is generally concerned with restoring, maintaining, and maximizing an individual's functionality, movement, and strength. Getting physiotherapy at home is quite common these days. It is especially useful when the patient's condition is critical or it is not possible for the patient to travel to a physiotherapy clinic. In such cases, the physiotherapist comes to the patient's home for diagnosis and treatment. Patients who have lost mobility, functionality, and balance due to injury, accident, ageing, and/or post-operative pain prefer physiotherapy at home over physiotherapy in clinics.
Convenience: The biggest advantage of physiotherapy at home is that you don't have to go to the clinic, which is tremendous for people suffering from moderate to severe injuries. There is also a higher probability of the patient being injured during their transportation. Home physiotherapy allows you to recover in familiar surroundings, in the comfort of your own private space.
Highly Personalized Care: Physiotherapy at home allows the therapist to devote their entire time to the patient, allowing them to make better assessments and plan exercises based on the tools and space available in your home. When a physiotherapist visits your home, he or she is much more likely to make additional recommendations and modifications based on your current environment, providing you with even more opportunities to promote recovery than you would have received otherwise. This results in more personalized care and easier access to resources, making the process much easier.
Cost Effective: Due to the fact that there is no need for travel, physiotherapy at home is more affordable than traditional, clinical physiotherapy services. Though some physiotherapists charge more for providing services at home, it is still less expensive than visiting a physiotherapy centre. It is primarily because your travel expenses are reduced.
Highly Convenient & Time Saving: Physiotherapy at home is accessible at times that are convenient for you. In fact, in many cases, in-home physiotherapists can also provide treatment at work or another convenient location for you. By choosing home physiotherapy, you can save a lot of time. Time is also important in treating conditions such as acute pain and stress.
Safe for High-Risk Patients: Many people are considered high-risk patients and would put themselves in danger if they received clinic physiotherapy services. Perhaps they have a medical condition or a disability that limits their mobility. Perhaps they are more susceptible to infection in public places. However, physiotherapy at home allows these high-risk individuals to benefit from physiotherapy in the comfort of their own home.
Thus, it is clear that physiotherapy has numerous benefits, particularly when performed at home. It also aids in the treatment of a variety of conditions, as well as in providing focused attention to a specific individual and accelerating his or her recovery.