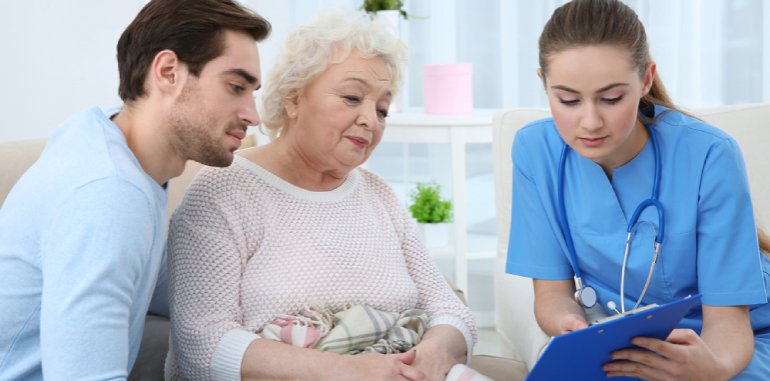 Considering a Career as a Nurse Practitioner?
What Is a Nurse Practitioner?
Nurse practitioners, also known as advanced practice registered nurses, coordinate patient care by diagnosing health conditions, creating patient care plans, prescribing medication, analyzing test results, and more. These expert clinicians can provide primary and specialty healthcare in areas such as:
Adult-gerontology acute care
Adult-gerontology primary care
Family practice
Pediatric primary care
Psychiatric mental health
While nurse practitioners may collaborate with physicians, they also operate with a great deal of autonomy when it comes to treating and caring for patients.
Requirements to Become a Nurse Practitioner
To become a nurse practitioner, one needs to commit to a rigorous education. This involves:
Earning a Bachelor of Science in Nursing (BSN)
Becoming a registered nurse
Completing a master's or doctoral nursing program
Passing a national nurse practitioner board certification exam
Obtaining nurse practitioner licensure
Universities offer a range of programs that provide various educational paths to become a nurse practitioner. Registered nurses with a BSN may elect to enroll in a BSN to Doctor of Nursing Practice (DNP) program. This puts them on track to earn the highest degree in nursing practice, a DNP. However, such programs typically take at least 40 months to complete.
Registered nurses with a BSN seeking a quicker route to becoming a nurse practitioner may choose to enroll in a Master of Science in Nursing (MSN) degree program. These programs usually take about two years to complete. Some nurses may choose to advance their skills through a DNP program following MSN completion.
Why Become a Nurse Practitioner?
The Bureau of Labor Statistics (BLS) expects nurse practitioner positions to grow by an astounding 52% between 2020 and 2030. The future of nurse practitionerslooks bright. In addition to job security, one should consider the many other notable nurse practitioner benefits.
Career Advancement: The expertise and experience of nurse practitioners position them to advance their careers inside and outside the clinic setting. Within healthcare organizations, nurse practitioners can assume leadership and management roles, overseeing nursing teams and departments. Nurse practitioners can also take their expertise to the classroom. Additionally, some nurse practitioners advance their careers by conducting research or opening their own practices.
Doors to Employment Can Open Sooner: Like physicians, nurse practitioners diagnose and treat patients, order diagnostic tests, and refer patients to specialists. They can also write prescriptions in some states. Nurse practitioners can also serve as primary care providers. In fact, around 70% of nurse practitioners deliver primary care, according to AANP.To earn their clinical privileges, nurse practitioners typically spend six to eight years in training. Physicians, on the other hand, need to spend much longer to earn their medical privileges. After completing a bachelor's degree and spending four years in medical school, physicians need to complete a residency that lasts another three to seven years.
Personal Fulfillment: A major nurse practitioner benefit is the ability to make a meaningful difference in patients' lives. Nurse practitioners help the sick recover, provide valuable support to those with chronic illnesses, and ensure patients receive the treatment and care they need to lead healthy lives. NPs also build supportive relationships with patients that can bring great emotional satisfaction to everyone involved. Whether comforting patients and families or mentoring other nurses on best practices, nurse practitioners often find deep personal fulfillment in what they do.
Financial Stability: Financial stability serves as another good reason to become a nurse practitioner. Nurse practitioners have opportunities to work in a range of settings, from hospitals to private practices, delivering primary, acute, and specialty care — and they can make a substantial income doing so.
Diversity and Geography of Career Paths: The complexity of disease, the growth of at-home medical care, and the prevalence of conditions ranging from obesity to type 2 diabetes demand healthcare specialists who can respond to niche areas of patient care. The specialized training and knowledge of nurse practitioners make them well-suited to help meet such needs. While the current issues facing nurse practitioners can pose challenges, staff shortages and other changes in the healthcare landscape can also serve as opportunities for nurse practitioners to expand.
Variety: What, then, can a nurse practitioner specialize in beyond family and primary care? Nurse practitioners can explore various specialty areas such as adult-gerontology, women's health, neonatal care, and psychiatric mental health. The need for nurse practitioners in a range of settings gives these clinicians many options when it comes to shaping their careers. They can work in hospitals alongside surgeons or use their skills to care for families in a general practice office, tend to the elderly in nursing homes or hospices, and even serve in a government health agency.
Become a Nurse Practitioner Today
More and more patients rely on the expert care of nurse practitioners across various specialty areas in communities big and small. However, the reasons to become a nurse practitioner go beyond providing a solution to primary care shortages. Nurse practitioners can enjoy extremely rewarding careers that compensate them well and offer many opportunities for professional growth.